In keeping with the spirit of mindfulness, this series provides an opportunity for me to practice the art of gratitude.  Remembering, through quick snaps taken on my phone, the things I may otherwise take for granted in my busy life if I didn't take a moment to stop and reflect.
It is a chance to consider those family moments that may otherwise get lost in the fast pace of everyday life.  Those moments between all the tears and tantrums that regularly occur but can all too easily be missed.
It's about seeing the extraordinary in the ordinary.
My  last 'Point Shoot' post detailed the lovely, tender moments from our trip to the farm in the early May bank holiday and this 'PointShoot' post is a record of our trip to the National Trust site Ightham Mote during the final bank holiday weekend of May.
The real 'hit' of this National Trust property for a family is the natural play area.  As you can see from the photos our three LOVED paddling in the stream, playing with the water and also exploring the other natural play things that made up this brilliant space.
It was great to watch the girls' relationship blossoming.  I have noticed them playing more and more together recently, instead of just playing side by side and this was clear again when they were playing in the stream together.  At one point they were helping each other stepping through the stream and are chatting lots to each other now.  A funny moment was watching the 3 of them doing their own variations of 'sausage rolls' down a little hill they came across.  They also loved running around the north pleasure garden playing tag and running races together.
Twin One was loving the sunshine and her 'summery look' – strutting her stuff in the outfit her Daddy had chosen for her that morning and striking some very funny poses.  She is really developing into a very funny little person –  full of joy and humour and it's lovely to see. She's been a little in the shadow of her more dominant siblings for a time now.  Here she is in all her glory!
All in all we love Ightham Mote –  as you can see from the photos it is a great family outing. Only 40 minutes or so from south-east London, and despite a little attempted running away by twin 2 and some overly vigorous splashing of little sisters by big bro, it was a very civilised way to spend an afternoon.    It's not our first visit here and I'm sure it won't be the last.
I love May for its two Bank Holiday weekends and also being my Birthday month too.

What did you get up to this long weekend?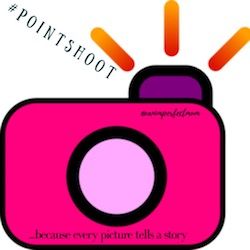 Save
Save
Save
Save
Save
Save